Customer service
Happy Camp takes care of you during your stay!
Our Customer Service will not leave you alone during your stay. We stay at your disposal to grant you a pleasant holiday. We wish you and your family an enjoyable stay from the start till the end.
Do you have any questions about your accommodation? Is there any aspect you would like to report? We are here for you!
If your booking has been made through a travel agency and not Happy Camp directly and your feedback concerns something that has not been clarified when you originally booked (inventory list, beds, internal facilities of the campsite etc.) we recommend you to contact the travel agency first!
If a Happy Camp reception is present on site and you met our Happy Camp staff at check in already, do to hesitate to contact them to report any kind of faults or just to get an answer to your doubts. The local park managers are in contact with the Maintenance team and they can help you at the earliest opportunity.
If there isn't any Happy Camp reception on site and you would like to report a fault in the accommodation you are staying (boiler, air conditioning etc) please text a whatsapp message to 347 0037484 from Monday to Saturday from 10am to 4pm.
Happy Camp main office will make every efforts to let you enjoy the rest of your holiday!
Faq
If you have a booking with Happy Camp you can enter the mobile home from 4pm on the arrival day and check out is within 10am on the departure date.

If you arrive earlier, you are allowed to enter the campsite and use the local facilities like restaurants, swimming pools etc till your accommodation is cleaned by our staff.
When you arrive on a campsite, please go first to the main reception to show your id and passport and be registered. You will be addressed to the Happy Camp reception, if present, where you can meet our employees. If not, the same reception where you got registered will handle you the keys of the accommodation too.
These campsites are:
Family Camping Serenella
Camping Ca Savio
Jesolo Mare Family Camping Village
Marina Julia Family Camping Village
Vigna Sul Mar Camping Village
International Riccione Family Camping Village
Camping Free Beach
Camping Free Time
Orbetello Family Camping Village
Porto Cesareo Camping
Camping Villaggio Lamaforca
Baia Domizia Camping Village
Stork Family Camping Village
Camping Village Internazionale San Menaio
Camping Village Internazionale Manacore
Villaggio Camping Thurium
El Bahira Camping Village
Camping Iscrixedda
Camping Tonnara
Camping Senia Cala Canyelles
Castello Camping&Summer Resorti
Each campsite could ask to pay for a tourist tax and/or a club/registration card.
On arrival you will be required to pay a deposit of € 100,00 in cash for each accommodation unit. Your Park Manager will give you a signed receipt for this, which you must return at the end of your holiday in order to get your deposit back. Without this receipt your deposit will not be returned.
You should also remember that in some campsites the currency is different from Euro (Hungarian Forint for Hungary).
To receive a full refund of your € 100,00 deposit you must leave the accommodation clean (we pay special attention to the cleanliness of your
bathroom, fridge and cooker
).
A deduction from your deposit for a final clean will be taken if your accommodation is not clean when you leave: € 40,00 for Happy Classic, Happy Standard, Happy Standard Extra, Happy Comfort and Happy Maxi Tent; € 50,00 for Happy Plus, Happy Premium and Happy Premium Suite. Happy Camp staff is not normally able to offer a final cleaning service.
Happy Camp provides a good inventory for up to 6 people and we would ask that you respect our equipment taking care to avoid breakages. Any charges incurred as a result of breakages will be deducted from your deposit at the end of your holiday.
If you should have doubts about the cleaning of the mobile home, you can talk to the reception or to the Happy Camp staff. A prompt report would give us the opportunity to act quickly. Please keep in mind that Happy Camp follows the procedures our
Health and Safety Consultant
has applied in terms of covid-19 prevention.
On some campsites the mobile home is provided with a parking lot close to the accommodation. If not, there will be a designated car park near the accommodation. Only one car is allowed to enter the campsite, if you're travelling with more, you will have to park the second car in a common parking space, if present, at an extra charge.
We have more than one accommodation type. The standard inventory is same for all types, some of them are provided with extra items as microwave and coffee machine.

On our website by checking the page "accommodation" you will find interesting videos showing the mobile home from inside. You can also look at the detailed inventory list with all available items!

Please remind that cleaning products, toilet papers and kitchen clothes are not available in the house.

Happy Camp provides a good inventory for up to 6 people and we would ask that you respect our equipment taking care to avoid breakages. Any charges incurred as a result of breakages will be deducted from your deposit at the end of your holiday.
Unfortunately not, according to the health and safety rules to be observed on the campsite gas and/or charchoal are not permitted in order to prevent fire.
A small electric grill is available, though. Feel free to use it!
You could, otherwise you could even rent the linen on site. Please inform us in advance if you need linen/towels for your stay. Here below the price for the rental service:
DOUBLE SET ( 1 set of double COTTON bed linen) € 20 per set
SINGLE SET ( 1 set of single COTTON bed linen ) € 15 per set
TOWELS SET ( 1 shower towel + 1 face towel) € 10 per set
Sure you can! The rental service is available at the following rates:
BABY BED € 3 per day
HIGH CHAIR € 3 per day
Payment must be cash.
Yes, they are. Not the tents, though. All mobile homes are provided with air conditioning, which is sometimes included in the price you paid for the mobile home. In some other cases the extra charge to be paid on spot is €5 per day.
In the older mobile homes you will NOT find any remote to check and change the temperature. In order to do this, please contact the park manager on site or the campsite main reception.
Our mobile homes are suitable from a minimum of 4 adults and 2 kids (comfort) till a maximum of 7 people (premium, premium suite and plus). There are some campsites that impose the maximum limit of 6 people even if the mobile home could be for 7, please check the campsite page very carefully!
Upon booking, clients must state that they will be bringing a dog. Written confirmation will be sent by Happy Camp to those clients who book a dog into our mobile homes.
This confirmation is required at check-in at the Happy Camp reception. Any client arriving with a dog who cannot present the written confirmation, will not be admitted into our accommodation.
Only small and medium-sized dogs are allowed.
All dogs must have a passport and, in order to be identified, must have an electronic microchip. They must travel along with their European health book or passport, and this must state the dates of the latest rabies vaccine (in accordance with the country of destination's Laws and Rules).
Inside the campsites, dogs must be kept on a leash and with their owner at all times. The owner is responsible for cleaning up their dog's excrement and must make sure that the dog does not disturb other guests. It is the owner's duty to ensure that the hygiene rules set by the campsite are adhered to at all times during their stay. Inside the mobile home, dogs are not permitted on the beds or the banquettes; they cannot be bathed inside the mobile home, but only in the specific areas indicated by the campsite.
Dogs cannot be left alone inside or outside the accommodation, nor inside the car.
Since every campsite has its own rules, we kindly ask you to inform familiarise yourself with them and to respect them. In some region, there could be some restrictions regarding dogs' access to the beach. The campsite will be able to give you more information about it.
Do not forget the necessary items for your dog: toys and food, all the accessories for your dog's meal (bowls for food and water), the dog bed, the bags for collecting the excrement and the leash.
More informations on this link
https://catalogo.happycamp.com/en/info/dogs
Sure, you have free access to all facilities. It is possible you need to pay an extra charge for the club card on some campsites. The beach service has to be paid extra in most cases. We recommend you to contact the campsite in advance (when you book) to ask for availability and prices of sunbeds and parasols.
For the use of Internet please ask the campsite, in some cases you can use the campsite wi fi all around the village, in some other cases there are some limited spaces where wifi is working. Wi fi can be at an extra charge.
Please contact the Happy Camp staff on site straight away, if present, or reach the main reception otherwise. An immediate report of a possible fault will give us the opportunity to fix the inconvenience promptly so that you can continue to enjoy your holidays with your family.
Our Customer Service will reply to the mails sent to
customerservice@happycamp.com
too. Please do not forget to write down your name, campsite, accommodation number and your contact so we could talk..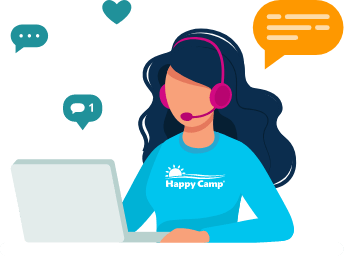 Orar
Luni - Sâmbătă
10.00 - 16.00