Happy Maxi Tent
Description
HAPPY MAXY TENT

If you are searching for a holiday in contact with nature, the Happy Maxi Tent is the perfect accommodation.

6 ADULTS*

Our Happy Maxi Tents are comfortable accommodations for up to six people (about 25 m²). They have two sleeping areas: one double and one triple bedroom. A sixth bed can be requested at the moment of booking and is usually placed in the living area. At the entrance of the tent, there is a living/kitchen area with a three-ring burner cooker, a fridge and tableware for six people. The Maxi Tent comes complete with a hardwood floor and a fixed frame. Outside you will find a table with chairs, a gazebo, two sunbeds or reclining chairs an electric grill.

All Happy Camp accommodation is non-smoking.

*If not differently specified in the structure's description.

The images are inserted for illustrative purposes only, the real version can be different in terms of furniture and colour.

Plan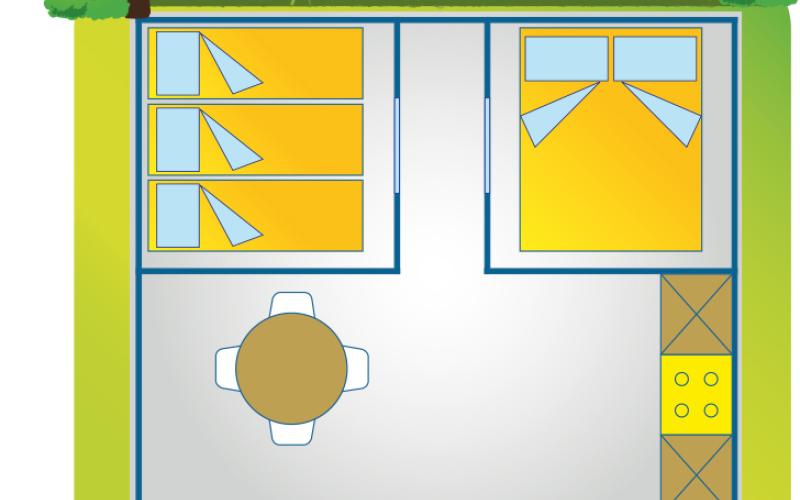 Inventory
Ashtray
Bottle opener
Colander
Cups
Cutlery tray
Cutting board
Dinner plate
Frying pan
Grater
Kitchen knives
Kitchen utensils
Mocha coffee pot
Plastic dishes
Plastic glasses
Potato peeler
Salad bowl
Salad cutlery
Saucers
Scissors
Set of glasses
Set of pots
Soup plates
Spoons, knives and forks
Teaspoons
Tin opener
Water jug
Blankets
Coat hanger
Pillows
2 loungers/deck-chairs
Chairs
Plastic table
Broom
Bucket
Drying rack
Mop
Rubbish bin
Scoop and broom
Where it is
Italy - Veneto - Lake Garda
from € 40,00 per night

Do you want to book by phone
or do you need help?
Booking office
---