Happy Plus
Description
HAPPY PLUS
               
With their 32mq, the mobile homes Happy Plus are a comfortable and luxurious solution for the perfect holiday.
 
7 ADULTS
 
This mobile homes are composed by a master bedroom with double bed 190x140cm, two bedrooms with two single beds each 190x70cm. There is a large living area and kitchen with a fridge/freezer and a four burner hob; the sofa can be used as an additional bed for one person. There is also a bathroom with shower and basin and a separate toilet with a small basin. In each room there are electric sockets and all the bedrooms have mosquito nets on the windows. There is also garden furniture which includes a table with chairs, two sunbeds or reclining chairs an electrical grill (where possible).
This mobile home typology is situated in some of our most popular campsites: Camping Bella Italia, Rosapineta Camping Village, Camping Village Park Albatros and Camping Terme Čatež. In campings Bella Italia and Park Albatros they have covered wooden terrace, while in campsites Terme Čatež and Rosapineta Camping Village there are half-covered wooden terrace.

All Happy Camp accommodation is non-smoking.
 
Plan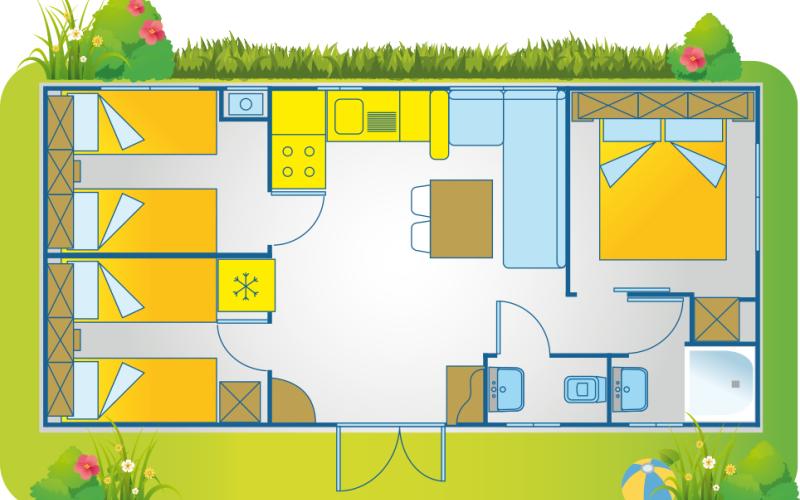 Inventory
Ashtray
Bottle opener
Coffe machine
Colander
Cups
Cups and saucers
Cutlery tray
Cutting board
Dinner plate
Frying pan
Grater
Kitchen knives
Kitchen utensils
Microwave
Mocha coffee pot
Plastic glasses
Potato peeler
Salad bowl
Salad cutlery
Saucers
Scissors
Set of glasses
Set of pots
Soup plates
Spoons, knives and forks
Teaspoons
Tin opener
Tray
Water jug
Blankets
Coat hanger
Pillows
2 loungers/deck-chairs
Chairs
Plastic table
Broom
Bucket
Drying rack
Mop
Rubbish bin
Scoop and broom
Where it is

Do you want to book by phone
or do you need help?
Booking office
---